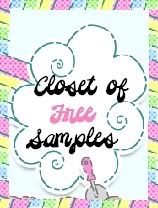 My friend Ashley over at
Closet of Free Samples
is having guest posts about coupons, so I told her I would love to write a post about how I organize my coupons.
I get a lot of crazy looks when I go to the grocery store. Some are curious and others are almost annoyed with my coupon book. What they don't know while they are staring at me is that I have four children and I have six mouths to feed every week. It gets crazy expensive and I am always trying to find ways to shave down the grocery bill.
I started with a small plastic file a few years ago. It was alphabatized from A to Z. I out grew that pretty quickly and found that is was too hard to find coupons in. I thought about it for awhile and had to come up with a way that I could see all my coupons and have them organized.
Here is what you need:
1. A three ring binder.
2. Baseball card holders
3. Dividers and Labels
I took all of my coupons and put them into categories. I choose these particular categories because they are the ones I use the most.
* Breakfast
* Snacks
* Dairy
* Rice/Pasta/Bread
* Canned Goods
* Baking
* Meat
* Medicine
* Toiletries
* Household
* Cleaners
I bring my book everywhere I go. You never know when you will need it! The easier you make it for yourself, the more likely you are to use your coupons to their full potential.