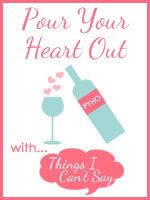 I recently found a great new blog called
Things I Can't Say
. Shell is honest and witty and expresses herself so well on so many things that Moms can relate too. Every Wednesday she hosts Pour Your Heart Out. The purpose is to be able to express your heartfelt thoughts once a week about anything you want.
I guess the only way to start this post is to say, I am lonely. I am lonely because I have so few in real life (IRL) friends. Part of the reason I came back to blogging was because I missed all of the wonderful people I have made friends with online and the endless amount of support that is out there if you need it.
I have have lots of friends over the course of my 37 years, but they always seem to go away. I have lost BFFs because of a boy, because of other friends, because I got engaged, because I got married, and because I had children. It seems that all my BFFs in the past could never weather through the changes in my life or theirs. To keep myself sane I have always tell myself they couldn't have been that great of a friend if they just gave up.
Because of all the pain, I have found that I have become the kind of person you have to tear down a wall to get to. Not to be difficult, just to be safe. I don't want to be hurt anymore.
To make matters worse, I have found it so hard to make friends since I have four children who have me running in four directions. You would think I would be able to with all these kids. Yet, I am home most of the time and don't get a chance to meet many Moms.
I am hurting at the moment because I think I am going through a break-up with my BFF for the last 15 years. I know it may sound funny, but I am sure you all know what I am talking about. Unfortunately, there isn't much talk about how friendships break-up or how to deal with it.
She lives about 4 hours away so we don't get to see each other but maybe once or twice a year. We call each other at least once a week, every week. She is the Godmother to my fourth daughter. She knew the real me before marriage and children and the person I am now. She knew when to push a little harder to get me to open up and she always knew what to say.
But now, the phone calls have stopped and things aren't right anymore. It started when she forgot my wedding anniversary. She is the only one left of my wedding party I even talk to anymore. She came right out and said she was too busy and just forgot. That really hurt. We are never too busy. I haven't forgot her anniversary, her birthday, her two boys birthdays or her husbands ever. We don't expect anything from each other, but an email, a text, something would have been nice.
She did manage to send a card a week later after we had talked. I emailed her and thanked her and told her I was hurt, but I understood she had a lot going on. We haven't talked since. WTH?
Now she is being spiteful and emails me to tell me she is too busy call her another week and crap like that. That is not my friend and I just don't understand. We are the kinda friends that can put one another in their place if need be. Am I going to loose a 15 year friendship because I told her I was hurt because SHE forgot something important to me??
I know I need to fight for this relationship, but I just can't find it in me right now. I am so hurt at all of her actions I don't know how to move on.
Back to my world I go. Friendless and sad. I don't want to hurt anymore. Friends have become such a painful part of my world. I never understood why my Dad used to tell me that if when I died I still had a handful of friends I would be lucky. Now I get it, Dad.