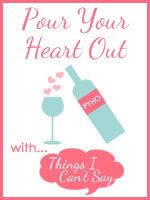 The person I am looking for is not here. I am not even sure who I am looking for anymore.
Am I looking for the young, naive 16 year old that thought love would solve all the world's problems?
Or maybe the 20 something girl in college that didn't have a care in the world except for where her next beer was going to come from?
Or the 20 something college graduate, living on her own, full of life, strong, independent, got what she want with hard work?
The newly wed that married the love of her life, had a brand new house and could accomplish anything?
All of these girls are gone and have been replaced with a woman in her late 30's that is tired, run down, has four kids, many stresses and not much joy.
I guess you could say I am going through an identity crisis. I have been home for 10 years now raising my girls and I feel like I have lost my way. I have lost who I really am.
Before my daughters were born I had an awesome career, I made great money and I had a sense of purpose. Don't get me wrong, being a Mom gives me a great sense of purpose, but not a great sense of self.
I don't feel like that strong, fun, ready to take on the world person anymore. I want her back. I am not even sure I like who I have turned out to be. Most days I feel like a maid that is just here to take all of my children's abuse.
Clean, cook, laundry, repeat.