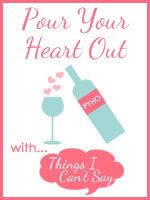 I'm scared. There I said it. I should be excited and jumping all over for joy, but I am scared.
Why you ask? I got a job. A full time job. After 11 years of staying home with my four daughters, working countless night jobs and part time jobs I finally will be leaving the house from 8 to 4 and working a real job.
Now don't get me wrong. In a sane person's mind this is a great opportunity and a wonderful thing. We can use the money, it has great benefits, which we need as well. Not to mention the fact I went from part time Customer Service Rep on the phone at night to the companies Director of Marketing. I am so grateful for this opportunity I can't even begin to tell you.
I knew this day would come I guess I just thought I had more time. I am lucky my Mom is willing to watch the girls. This job just kind of fell into my lap and I would be a fool to pass it up. Getting back into the workforce is not easy.
Change is so hard. I am trying to embrace it. I am comfortable here at home. It is what I know. Hopefully I will find a way to be comfortable out there in the world as well.
Wish me luck.