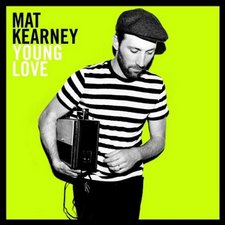 Mat Kearney – Young Love
Release Date: Aug 2, 2011
Genre: Alternative
Album Length: 10 tracks: 39 minutes, 27 seconds
I have been a fan of Matt Kearney for years now. So, when I was asked to review his most recent album I was really excited.
Mat Kearney is a Alternative musician from Nashville, Tennessee. This singer/songwriter has successfully had a total of 4 top 20 hits on the Adult Top 40 Charts.
Young Love
is the fourth studio album and absolutely his best so far. I sat down to take a listen to this whole album. After being a big fan of Mat for a few years, I had to say I was a bit excited and had some high expectations for
Young Love.
The overall sound of the album is very similar to his previous albums; it has a upbeat feel to most of the tracks. His first single, "Hey Mama," has fun claps, beats and lyrics. His more slower songs, such as, "Learning to Love Again" are said to be some of his best songs found on this collection. This song was written as a simple and intimate letter to a hurting friend, it is also personally my favorite song on the album.This long awaited album is definitely worth a download. He met my expectations and more!
Disclosure: I am a member of One2One Network and was given this album to review. All opinions are my own. I truly love this artist and album!